Welcome to Heritage Inn

Great Falls, Montana has long been a popular location for beautiful scenery and outdoor recreation activities. When you are looking for the best hotel deals in town, the Heritage Inn offers great accommodations that are convenient, comfortable, and an amazing value.
You can find our hotel located directly off of I-15/Highway 87, just a short distance away from Great Falls International Airport. When you choose us for your accommodations, you can enjoy staying within minutes from many different local shopping and dining establishments, as well as many points of interest.
Because we are among the top places to stay in Great Falls, you may find that you never have to leave the hotel at all. Our on-site amenities include an onsite restaurant, Sports Bar & Casino with video poker, keno and line games, indoor heated swimming pool, 24-hour front desk, and much more.
In addition to the many convenient on-site offerings, our guest rooms feature many standard amenities that help you relax and experience the best hotel stay possible. Our guest rooms feature larger standard guest bed sizes, either two queen beds or a single king bed, as well as cable TV, in-room movie service, free high-speed wireless Internet connections, and much more.
Whether you plan on staying in or enjoying the many attractions and recreational offerings, you will find our hotel the convenient choice. Museums, shopping centers, and dining options can be found less than a mile away, with more options just a few minutes out. You can save more on transportation needs as well with free on-site parking that is accessible 24 hours each day.
When you need better hotel deals for business travel, family vacations, couple's trips, or any other travel need, it's hard to beat the value you can find when you book with us.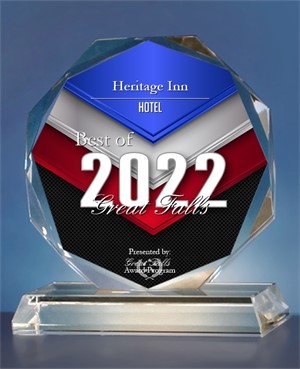 2022 Great Falls Award Winner
Each year, the Great Falls Award Program identifies companies that we believe have achieved exceptional marketing success in their local community and business category. These are local companies that enhance the positive image of small business through service to their customers and our community. These exceptional companies help make the Great Falls area a great place to live, work and play.
Various sources of information were gathered and analyzed to choose the winners in each category. The 2022 Great Falls Award Program focuses on quality, not quantity. Winners are determined based on the information gathered both internally by the Great Falls Award Program and data provided by third parties.
About Great Falls Award Program
The Great Falls Award Program is an annual awards program honoring the achievements and accomplishments of local businesses throughout the Great Falls area. Recognition is given to those companies that have shown the ability to use their best practices and implemented programs to generate competitive advantages and long-term value.
The Great Falls Award Program was established to recognize the best of local businesses in our community. Our organization works exclusively with local business owners, trade groups, professional associations and other business advertising and marketing groups. Our mission is to recognize the small business community's contributions to the U.S. economy.